Your Guide to Winterizing Your Vehicle
---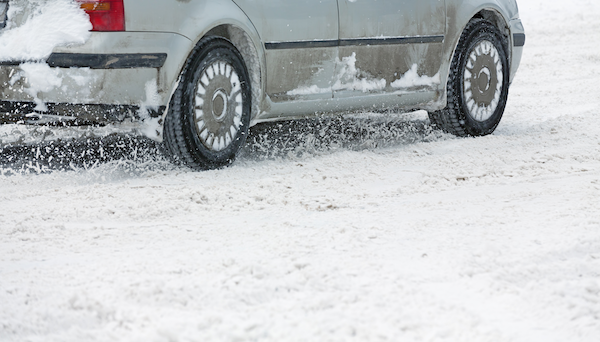 1) Perform a visual inspection
Before the weather gets cold and wet, take a few minutes to visually inspect your vehicle.
Pop open the hood and check your fluid levels, especially your oil and your coolant reservoir. If you notice any leaks, call ArborMotion right away, they turn into a big problem!
Start your car and leave it in park. Check all your lights, including your headlights and brights, your daytime running lights, and your blinkers all the way around your car.
Inspect your windshield for any cracks or chips - these can spider in cold weather and cause you a headache; windshield replacement takes a lot more time than fixing a chip. Catch them while they're small and manageable!
Check the tread depth on your tires. Your tires are literally your connection to the road, and when the road isn't smooth and dry, your tire health is even more important.
2) Clean and prepare your vehicle for snow and salt
It's so much more pleasant to give your car a good scrub while the sun is still shining! Give the interior a vacuum and clean out the trunk to make room for winter essentials. Heavy duty winter floor mats are also a good idea, to catch the salt and slush so you don't ruin your carpeting.
Give the exterior a good wash and consider a coat of wax, too. The wax will help protect the paint from salt and will also make it easier to clear off snow and ice. If you just don't have the time and equipment to get your car in tip top shape, we highly recommend Doug Cunningham at Total Detail (located inside ArborMotion)! (ADD LINK)
3) Restock your winter prep kit
As the temperature dips, it's important to keep a few things in your vehicle to keep you and your passengers as safe and comfortable as possible, just in case of emergencies. A few "must haves" include:
Blankets/hats/gloves
Road flares
Jumper cables
A flashlight with fresh batteries
First aid kit
Snacks and bottled water
A properly inflated spare tire and jack
4) Schedule your winter prep inspection
There are a handful of things that you'll need a mechanic to take care of before the snow starts to fall. When you bring your vehicle into ArborMotion, our European auto repair technicians will give your vehicle a thorough inspection, and provide recommendations for service including:
Tires - checking tread wear and pressure, and scheduling a seasonal tire swap as needed.
Testing the battery - did you know that a battery has less cranking power in colder temps? Having your battery tested can help you avoid a dead battery in the middle of winter!
Coolant check - your radiator keeps you and your engine sitting at a comfortable temperature throughout the year, and coolant (also called antifreeze) keeps your radiator running happily!
Check all belts and hoses - these parts do wear down over time, and they can become brittle in the cold weather. With fresh and supple belts and hoses, you and your vehicle will get where you're going.
Inspecting the brakes - your brakes always matter, and they're even more important in icy and slick conditions. If your brake pads and rotors are worn, your stopping distance will be longer and could result in a preventable accident.
Checking the windshield wipers - the general recommendation is to replace your wiper blades every six months. Especially in wet weather, and foggy mornings and evenings, having a streak-free windshield is incredibly important for your safety and comfort.
Bonus points for you - schedule your oil change while your vehicle is already having the Winter Prep Inspection done. Keeping your oil fresh and clean ensures its longevity and best performance, even as the temperature drops.