Remember to Switch Out Your Winter Emergency Kit for Summer!
---
Michigan summers...road trips, hiking, picnics, camping, fireflies, bonfires and, of course, water sports! We're fortunate enough to be surrounded by fresh water on three sides of our state and have an abundance of inland lakes. After the frigid gray days of winter, we're eager to get out and enjoy the good weather while we have it, because we know Michigan summers never last long. Spring is the time of the year that the weather changes, and so do we. We do "spring cleaning" inside the house to prepare for the weather change.
This is also the perfect time to get your vehicle ready for the change from driving in snow and ice to road trips and all your summer activities!
When living in a climate with four seasons, it's wise to have both a cold weather emergency kit and a warm weather emergency kit. The winter kit should have items like traction mats, a shovel, and winter outerwear. These items should be swapped for warm weather items in the spring, and any expired food items should be replaced.
The easiest way to get organized and keep your emergency items up to date is to keep your all-weather items together, the winter items together and your summer items together. One way to do this is to use a clear plastic bin with a lid for each kit, as in the photo. Other ways to keep your emergency items organized is by using fabric storage bins or, if you're super organized, try shower caddies.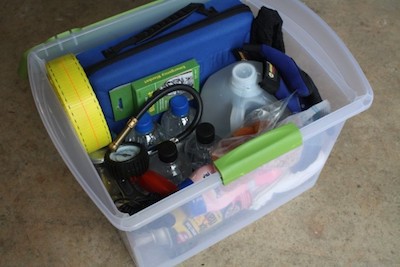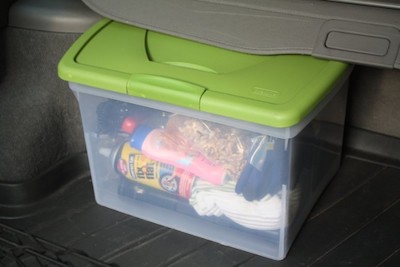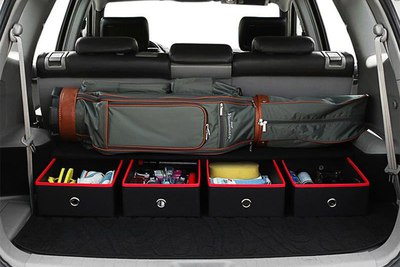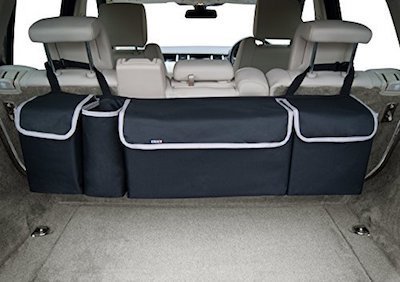 Another way to think about this is that staying organized will be easier if you have four separate containers for your emergency items. One for items that stay in your car year-round, another for food items that need to be rotated each time you swap out seasonal items, and the remaining two for items that are swapped seasonally. You can store your seasonal container when it's not in use somewhere outside your vehicle so it doesn't take up precious cargo space.
The bin that remains in the car all year should include the following items:
First Aid Kit
Tool Kit – Ensure it has the proper metric and or Torx bits for European vehicles.
Multipurpose Tool or Pocket Knife
Magnetic Flashlight and Extra Batteries – This way you don't have to try to hold the flashlight and change a tire.
Jumper Cables or a Jump Box
Tire Pressure Gauge
Tow Strap
Hazard Triangles or Road Flares
Spare Fuses
Empty Gas Can
Duct Tape
Reflective Emergency Blanket and a Regular Blanket
Rags or Paper Towels
Firestarter – Lighter, Striker, Waterproof Matches etc.
Emergency Cash
ABC rated Fire Extinguisher
Edible items should be rotated every time the seasonal emergency bin is rotated to ensure freshness. The following items are suggestions for non-perishable food items. Choose the items you feel are most appropriate. Mess alert: chocolate will melt in warm weather, so you may want to avoid options that are chocolate coated or contain chocolate candies.
Water – This is a must! You should have one full gallon plus as many bottles as the number of people your vehicle carries.
Energy Bars – Choose high calorie, low sugar, low sodium options.
Granola Bars
Nuts – Almonds or shelled sunflower seeds are good choices.
Jerky
Dried Fruit
Sealed Tuna Packs
Hearty Whole Wheat Crackers
Dry Cereal
Juice – Sports drinks or V-8
Peanut Butter – Or another nut butter in individual packs.
Hard Candy
Trail Mix
Whole Wheat or other hearty crackers
While traction mats and warm gloves are a must in January, they're not practical in July and they do take up precious cargo space for picnic blankets and fishing poles. It's a good idea to keep a separate container for summer and winter items that can be swapped when the weather starts to change. Your warm weather emergency kit should contain the following items:
• Water! This was also mentioned in the edible section but it's extremely important in warm weather to make sure you have enough fresh water.
Wide brim hat
Comfortable shoes
Sunscreen
Insect Repellant
Umbrellas or Rain Ponchos
Optional items for warm weather include:
Hand Sanitizer
Plastic Tablecloth for impromptu picnics
Baby Wipes – Even if you don't have a child in diapers they come in handy.
Extra Hair Ties
Spray on leave-in conditioner and a comb or brush
Baby Powder – Magically removes sand!
Now that your emergency kit is all packed and ready to go, there are a few items that you should always keep in the glove compartment or within reach of the passenger or driver:
A written list of emergency contacts in case your phone goes dead
Escape Tool – One that can cut a seat belt and break a window in case emergency escape is necessary.
Cell Phone Charger – A solar powered charger is a good choice.
Pen and Paper
Cash
As March starts to give way to April, we begin to see the sun again, the grass starts growing, leaves appear on the trees again and we spend more time outdoors. Use this guide to help you get organized and help you spend less time prepping for your outings and more time enjoying the fleeting Michigan summer…. there's nowhere else in the world like it!
ArborMotion: Foreign Car Repair in Ann Arbor You Can Trust!
At ArborMotion, we specialize in foreign car repair in Ann Arbor. All our technicians are ASE certified and three have ASE Master Technician certifications. If you want a reputable technician who specializes in your brand of vehicle, schedule an appointment with us today!