Peter Grant - ArborMotion's "Customer of the Month" February 2017
---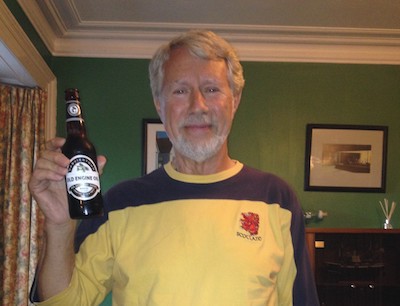 Here is a Brief "Q & A" with our longtime customer and friend, Peter Grant. By the way, the beer that he is holding in this photo is called "Old Engine Oil," which we think is quite perfect for the occasion. Peter discovered this brew while he was in Scotland, and we're glad that took a photo of it!
HOW LONG HAVE YOU BEEN BRINGING YOUR VEHICLE(S) TO ARBORMOTION?
For as long as Tim Pott has been there – 5 years+.
WHAT VEHICLE(S) DO YOU HAVE SERVICED AT OUR SHOP?
Anything from my 2000 Audi S4 or 1985 Porsche 911 to my 1997 Ford Ranger truck, daughter's 2000 Mercury Sable or 1999 Chevy Tracker… And a lot of cars in between. With 5 kids, all with cars, a wife, and my own addiction to cars, it's a long list.
HOW DID YOU FIRST HEAR ABOUT ARBORMOTION?
I moved here with Tim Pott, who I was already doing business with.
WHY HAVE YOU KEPT BRINGING YOUR VEHICLE(S) TO ARBORMOTION OVER THE YEARS?
Because they do things right, and if there is a problem with what they've done, they make it right. There is a passion for automobiles here that goes beyond the "business" of fixing cars.
IN YOUR OPINION, WHO IS THE FUNNIEST MEMBER OF THE ARBORMOTION TEAM?
DO YOU LIVE IN THE ANN ARBOR AREA?
Yes.
DO YOU UTILIZE OUR SHUTTLE SERVICE FOR YOUR APPOINTMENTS?
Sometimes.
HAVE YOU MET ANY OF OUR TECHNICIANS?
Yes, a lot of them. I'm on a first name basis with many of them.
WHAT DO YOU THINK SETS ARBORMOTION APART FROM OTHER INDEPENDENT SHOPS AND/OR DEALERSHIPS?
Already answered above, and the same reason I keep bringing my cars here. They're car guys here.
HAVE YOU RECOMMENDED ARBORMOTION TO ANY OF YOUR FAMILY AND/OR FRIENDS?
Often and always. I've got most of the neighborhood coming here!
Thanks again, Peter! It has been our pleasure to both know and serve you for all of these years, and we look forward to many more!