Meet Chuck Hartmeyer - ArborMotion's Team Member Spotlight
---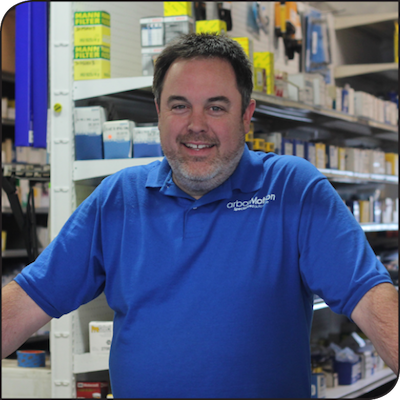 How did you choose your profession?
I always knew that I wanted to work with cars in some way. My grandfather was the head of engineering at American Motors, two uncles are automotive engineers, dad was a salesman at Howard Cooper- guess you can say cars are in my blood!
What was your first automotive job?
I worked as a porter at Eurotec Motors starting in 2003.
How long have you been doing what you do?
I was moved into an office role at Eurotec within the first year of employment there, so roughly 12 years.
What certifications do you hold?
I have completed Auto Service programs 1,2 and 3 as well as specialized courses in brakes, engine restoration and electrical repair at Washtenaw Community College. A few of those classes taught by our very own Tim Pott!
What unique challenges and rewards come from working on imports?
In the parts department, our challenge stems mostly from the variety of vehicles we service. I have to have a good understanding of many, entirely different electronic parts catalogues. The reward is knowing that with the proper parts, we have kept intact the high standard these great vehicles were built with!
What is the weirdest thing you have found in a car during a job that should not have been there?
Well, this was before my time but my mom had a new Porsche 914 that had a weird rattle from the driver's door. She took it back to the dealer where they pulled the inner door panel and found a German beer bottle in there!
What are you known for professionally? What do you have a knack for?
I am good with small electronics work. I have repaired circuit boards and even replaced LCD panels in Porsche HVAC control units. I am also good at painting and fine detail work.
What are you most passionate about professionally? What most excites you about your work and the contribution you can make?
I like when we can offer a unique solution for a customer on a difficult and/or expensive repair. I believe that effort shows the customer we are a companion in the ownership of the vehicle with them!
What are you passionate about personally? What do you really enjoy? What can't you stop talking about?
I am into ANYTHING radio controlled. I've been racing R/C cars since I was sixteen and have expanded into boats, airplanes, jets, drones—You name it! If it can be operated with a transmitter, I've done it.
Where can we find you when you're not working? What's your favorite way to spend a weekend or a Sunday afternoon?
In the winter, I'm usually at an R/C racetrack. In the summer, I'm either at the R/C flying field or on the golf course. In the spring and summer, my wife and I are usually with our 10 year old son at his football games or practices. There's always something going on and I wouldn't have it any other way!