Get Where You're Going This Winter!
---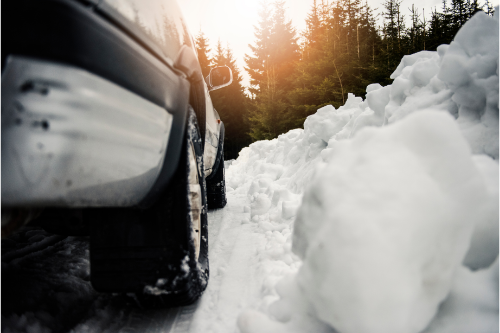 1) All-Wheel Drive vehicles rule the roads in snow and ice
All-wheel drive (AWD) vehicles are available as either full-time AWD or as part-time (also known as "on-demand") AWD. Part time AWD is the more fuel-efficient option, but either are wonderful to have in challenging road conditions.
All-wheel drive will sense when there's slippage at one wheel and more power will be sent to the wheels that have grip. Most AWD vehicles available today have electronically controlled all-wheel drive systems and can respond to changing road conditions before a wheel starts to spin - keeping you driving in the direction you want to go!
2) Four-wheel drive is different from all-wheel drive, in a few ways.
Four-wheel drive is selectable and is manually controlled by the driver.
Neither four-wheel high nor low range is recommended for standard on-road use.
4-Hi is great for off-road trails that are snowy and considered easy to moderate.
4-Lo is used for really challenging off-road trails or deep snow. It can only be used at low speeds, helping your vehicle crawl over obstacles.
If you don't switch back to the standard 2-wheel drive once your need for 4WD has ended, you run the risk of doing damage to your vehicle.
Running the vehicle in 4WD also reduces your fuel economy.
3) Winter tires are your best choice for wintry weather
Winter tires are designed to give you the maximum amount of control in snow, slush, and ice. They're made from a unique rubber compound that doesn't freeze and solidify when the temps drop. Because they stay more supple in cold weather, you maintain better grip on the road when you drive.
4) Modern features that keep you safe
If your vehicle is less than 10 years old, chances are you have at least one of these incredible safety features:
Anti-lock brakes and stability control - anti-lock brakes (ABS) have been a standard for years now, and for good reason! ABS prevents your brakes from locking up, so you maintain control of your vehicle. Stability control works in tandem with your ABS system to help keep your car going in the direction you intend to prevent a spinout.
LED headlights and taillights - LEDs are brighter and longer lasting than previously standard halogen headlights. They let you see the road more clearly and allow traffic behind you to see YOU when you brake.
Forward collision warning and emergency braking – this technology utilizes a combination of cameras, lasers and sensors to sense hazards in front of you. It will flash a warning light and/or sound and even apply the brakes to slow or stop your vehicle to prevent a crash.
Schedule Service on Your Domestic, Asian or European Vehicle Today!
To learn more about winter driving and how to keep your car safe, European auto repair technicians at ArborMotion are here for you! Bring your vehicle to ArborMotion and we'll have it running in tip-top shape in no time! No question is too big or small. Call ArborMotion at 734-761-1088 to schedule your appointment today!