What is a Cylinder Bore Scoring?
---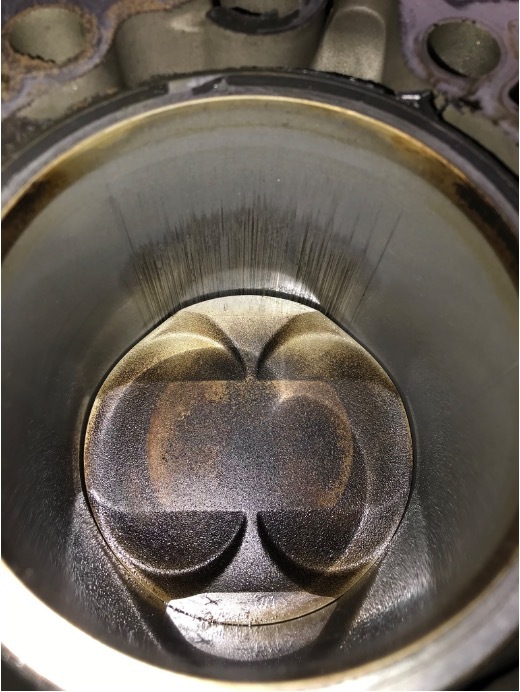 Cylinder bore scoring can be a big issue for early water-cooled Porsche engines. If it happens, it can cause tremendous damage to your precision-engineered engine and may even mean a full engine rebuild.
Rennstatt can help you save on that $30,000 rebuild! We start with an engine oil analysis to determine if there's fuel mixing with your oil; the number one cause of cylinder bore scoring is failing, or failed, fuel injectors. The fuel injector starts to over-fuel the cylinder, which causes the cylinder to wash with fuel, removing the lubrication that should be provided by oil. This leads to cylinder wall damage.
The small scratches you see are the cylinder bore scoring. It doesn't seem like they should matter much, but even small grooves like this can cause catastrophic failure.
With engine oil analysis, we can determine if your engine oil has been diluted by fuel. If that's detected, we can create a custom engine health report to evaluate if there has been any damage. We often recommend replacement of all fuel injectors, at a minimum, to protect your motor from further damage.
For those that have more damage than can be quickly remedied, we do full engine rebuilds. We carefully disassemble your engine, return all the components to factory-spec, then rebuild the engine piece by piece. It's not a fast process, but it does give your Porsche a new lease on life!
Schedule an Engine Rebuild on Your Porsche at ArborMotion - Ann Arbor's Porsche Shop!
At Rennstatt, we've got a certified passion for Porsche! Our Porsche technicians work hard to ensure that your vehicle is performing at its best. When you're ready to schedule an engine rebuild for your Porsche in Ann Arbor, give us a call at 734-761-1088. We're happy to help you with all your Porsche maintenance and repair needs.