The Basics of Winter Maintenance
---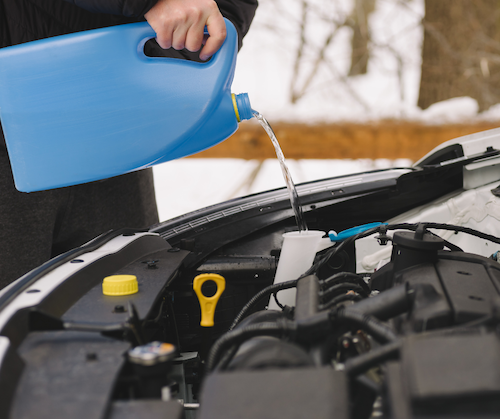 1) Window Care
Choosing winter wiper blades is a good idea if you live in Michigan - they're better at keeping your windshield clear in cold weather.
Use winter-rated windshield fluid so it won't freeze.
Check your front and rear defrosters to be sure they're in working order.
2) Keep the Fluids Full
Fluids frozen in your vehicle's supply lines can cause a big headache when the temps dip low. Save yourself by checking your fluids regularly and keeping your gas tank above the halfway mark. Fluids to check on a regular schedule include:
Coolant*
Oil
Windshield washer fluid
*A note on coolant - You may see antifreeze in the store, and while it does go into the coolant reservoir, it needs to be properly mixed to perform optimally in your engine during freezing temperatures. If you schedule a Winter Prep Inspection with us, we'll inspect the level and quality of your coolant.
3) Test Your Battery
Cold weather makes everything work a little harder, including your battery. Without your vehicle battery, nothing else will work! Check your battery terminals and the cable ends to make sure there's no corrosion and that the connection is tight and secure. If it's been a while since you've replaced your battery, give us a call (734) 761-1088. We can schedule a battery load test to be sure your battery is up to the cold weather challenge!
4) Mind Your Tires
Tires are such an important component to your daily drive! Having the proper winter tires fitted to your car increases your control in bad weather, which can dramatically increase your personal safety in slippery or cold conditions. The cold will affect the rubber compound that your tires are made of, which is why winter tires are highly recommended for the winter months. And, cold air is less dense than warmer air, which means you may see a dip in your tire pressure. If your Tire Pressure Sensor light comes on, you should definitely add air to get it to the correct pressure. If you need a hand with this, give us a call and we can help you out! It's also a good idea to check the pressure monthly to make sure you don't have any leaks.
5) When to Call Your Favorite ArborMotion Mechanics
No one wants to get stranded. Being stranded in the cold is the worst! Call us to schedule an appointment if you have:
Warning lights come up on your dashboard - check engine light, brake light, tire pressure sensor light - or if you get any kind of maintenance due message from your vehicle.
Any kind of rattle, grinding, or squeaking, especially after a heavy snowfall or accidentally driving over a pothole.
A battery that seems sluggish, like it is having a hard time starting your vehicle – or you need to crank the engine a few times before it gets going.
Schedule Winter Maintenance on Your Domestic, Asian or European Vehicle Today!
To learn more about choosing the right tires for your vehicle, European auto repair technicians at ArborMotion are here for you! Bring your vehicle to ArborMotion and we'll have it running in tip-top shape in no time! No question is too big or small. Call ArborMotion at 734-761-1088 to schedule your appointment today!