ArborMotion - Home of The Second Opinion
---
Would You Like a Second Opinion?
Something we noticed over the years was that many people came to us asking for a second opinion of work they were quoted from another repair facility. We gained a reputation for giving clear and honest opinions as to whether or not the work they had been quoted was critical at that time, or even needed at all. Sometimes we even found critical issues with their vehicle that had not even been mentioned in the estimate from the other shop.
We would love to help you too if you have received an estimate for work and are not 100% sure if it is needed. Please call us at 734-761-1088 or set up an appointment for a Complimentary Second Opinion and get the details.
Transparency
Our Shop-Ware software allows you to take control of the decision making process by seeing what is and isn't important to address. Our customers can go online and view their vehicle's status, complete with notes from the advisors and technicians along with pictures and even video of what we find. That is a very powerful tool for you as a vehicle owner to make an informed decision of what should or should not be done, and we are more than happy to share that info with you and help you make the right decision.
Here is an example of what you might see when viewing your vehicle's status online: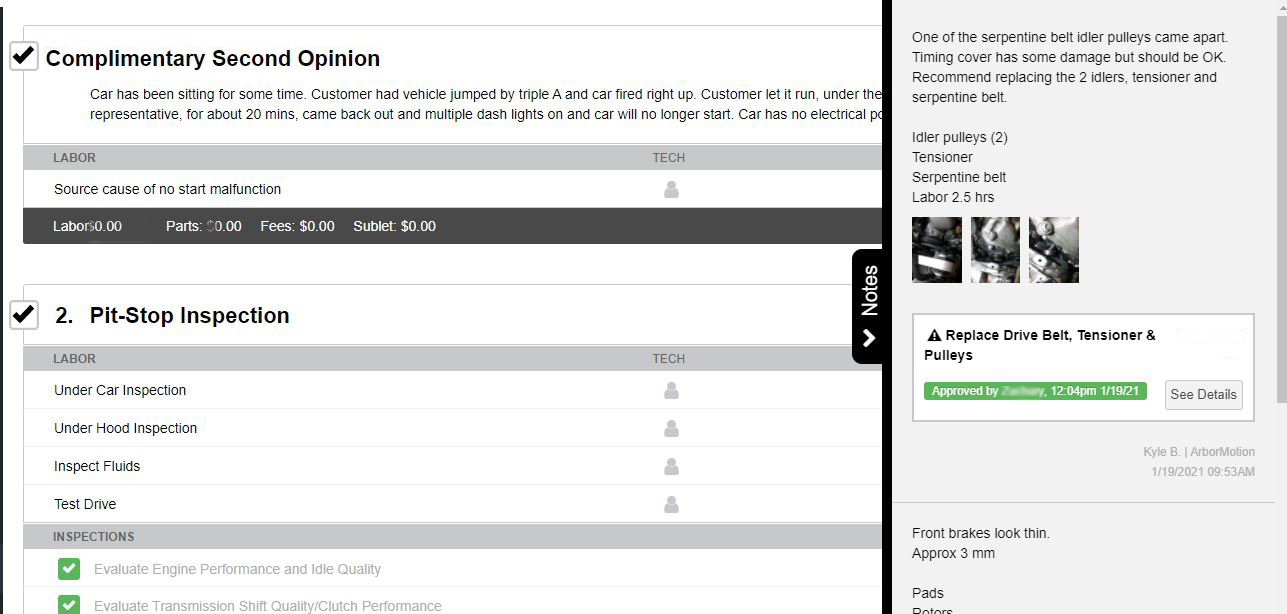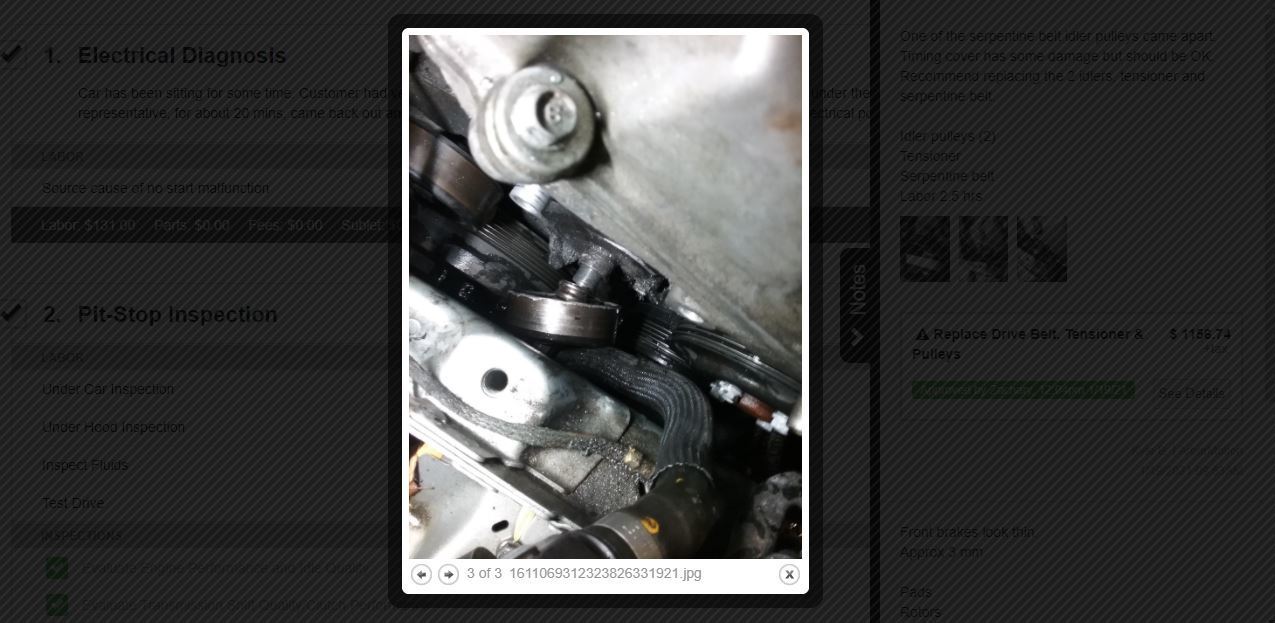 *In order for us to help you with this, we will need a copy of the estimate you received so we can be fully informed and go right to the issue in question.
Linda Dewaele
Positive: Professionalism, Punctuality, Quality, Value
I have been taking my cars to ArborMotion for at least 10 years and they have consistently offered excellent and knowledgeable customer and mechanical service. They have never recommended service that I didn't need and have gone out of their way to save me money. I completely trust their advice and work and recommend them without reservation.
Gregory Harden
Positive: Professionalism, Punctuality, Quality, Value
ArborMotion is setting an extremely high standard for auto service. I am impressed with their commitment to diagnose problems and provide feedback to the customer in specific and understandable terms. Most importantly ArborMotion does not give the customer any sense that they are trying to find excuses to charge you for more than is necessary. First class customer service on more than one occasion.
Jeffery S. Bebber
Arbor Motion is great to work with. I trust them to do exactly what they are supposed to do and if something doesn't need to be done they tell us that also, even if another shop said thousands of dollars of repairs was needed, when it really wasn't. Very efficient and honest.
Steve Laatsch
Complete trust in Arbor Motion with all three of our Audi cars. They know what they are doing, have great customer service and don't try and convince you to do unnecessary repairs.
Christine Harrington
They did a tune-up and made two minor repairs (Audi). Great to consult with on service & repair options, no pressure. Exceptional capacity when it comes to providing quotes, answering questions, following up via email (versus endless phone-tag). The best customer service I've dealt with.
Amanda Jacobs
I've been going to Arbor Motion for years. Although I now live an hour away, I still bring them my A6 for fast, thorough, and honest work. As a female who's not mechanically savvy, I never doubt their recommendations and many times I'll ask for a service and am told it's not needed yet. Arbor Motion will continue to have my business.
Mike Healy
I trust the quality of the work at Arbor Motion. Just as importantly, I trust that I will be charged fairly for only the work that is necessary. I wish I'd found them sooner...could have avoided a number of unnecessarily expensive misadventures at the dealership.
Talbot Hack
We've been taking all our cars to ArborMotion for years (VW GTI, VW Golf & MINI), and these folks do it right. Clean, well-managed facility, professional, stable staff and thorough mechanics. I always get the right advice about what - and when - to repair. And they make it easy with a shuttle service. It's a no-brainer: try these folks if you haven't already.