Wheel Alignment 101
---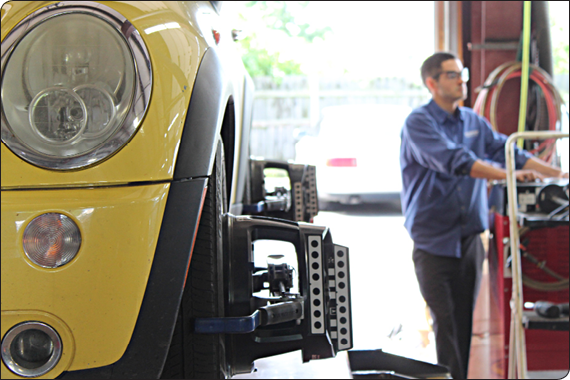 With the arrival of ArborMotion's state-of-the-art alignment machine, in addition to the relentless pothole season that we are all experiencing throughout Washtenaw County, we would like to talk about the importance of wheel alignment.
What exactly is a wheel alignment and why is it necessary?
Does your vehicle tend to pull or drift to one side of the road while you are driving? Have you noticed that your tires seem to wear unevenly? If so, then any of these signs could be an indication that your vehicle is in need of a wheel alignment. A wheel alignment ensures that the four wheels on your vehicle are "aimed" properly in accordance with your vehicle's manufacturer specifications and optimized for maximum tire contact with the road surface. When your vehicle's wheel alignment is off, it can lead to a plethora of issues.
When should I have a wheel alignment performed on my vehicle?
Several vehicle manufacturers recommend at least one alignment per year, but other automotive professionals recommend an alignment every 6 months (or 6,000 miles). The technicians here at ArborMotion recommend a wheel alignment on an "as needed" basis, and that is why we now offer free alignment checks. After all, a vehicle's need for an alignment varies due to several factors, such as the quality of the roads that you drive on (think pot holes).
What could happen if I do not have my vehicle's wheels aligned?
When a vehicle's wheels are not aligned correctly, the tires will be scrubbing the road surface as you drive. This scrubbing action will cause the tires to wear excessively and in an uneven pattern. This is why several tire manufacturers will not honor tire warranties unless you can prove that your vehicle was properly aligned during the usage of your tires. Misaligned wheels will make your vehicle work significantly harder, burn additional fuel and will result in lower gas mileage. Furthermore, driving a vehicle that pulls to one side on icy or wet roads is most definitely a safety hazard. You are also putting needless stress on your steering system and suspension if you continue to drive a misaligned vehicle.
How is the wheel alignment on my vehicle measured?
Each vehicle has its own unique alignment specifications according to the design of its suspension components. The weight, size, length, and anticipated usage of the model are all considered when the manufacturer establishes the appropriate alignment angle specs. ArborMotion's new state-of-the-art alignment machine calculates your vehicle's current alignment measurements, and then automatically compares it with the correct O.E.M alignment specifications for each make and model. If your vehicle is outside of the factory specifications, then your technician will make the necessary adjustments to the alignment angles. The amount of time necessary to complete a wheel alignment varies from vehicle to vehicle.
AborMotion now offers free alignment checks?
Yes! With the arrival of our new alignment machine, we can check your vehicle's measurements and compare them to the manufacturer's specifications much more efficiently than we could before.
So please give us a call at (734) 761-1088.