Volvo Means Safety
---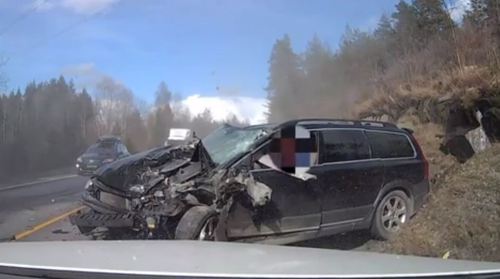 Planning a summer road trip with your family?
Buying a new family car?
Are you worried about safety and reliability?
Safety and reliability are on most people's minds when they buy a new vehicle, especially when they have precious cargo to worry about. They, and you, probably want the BEST!
"Volvo" and "safety" go hand in hand as evidenced by this image from a crash between an XC90 and a full-sized tractor trailer on a Canadian highway in April of this year. The Volvo clearly drifted into the oncoming truck and, while we're not here to speculate on what caused the accident, we'll say that the driver was lucky he was in a Volvo because he walked away without even a minor injury.
In 2012, the National Highway Traffic Safety Administration implemented a small-overlap crash test. The test recreates a crash just like the one this Volvo was involved in – a moderate-speed crash that only clips a quarter of the front bumper. Because there was previously little crash protection manufactured into this area of most vehicles, these crashes are extremely dangerous. Since then, automakers have strengthened that area better safety results in these crashes. This Volvo, however, was built before 2012 and the image shows just how strong the vehicle already was. Kudos to Volvo and kudos to you if you own and drive one. Safety first!
ArborMotion: Volvo Repair in Ann Arbor You Can Trust.
At ArborMotion, we specialize in Volvo repair in Ann Arbor. All our technicians are ASE certified and three have ASE Master Technician certifications. If you want a reputable technician who specializes in your brand of vehicle, schedule an appointment with us today!