Timing Service for Audi and Volkswagen at ArborMotion
---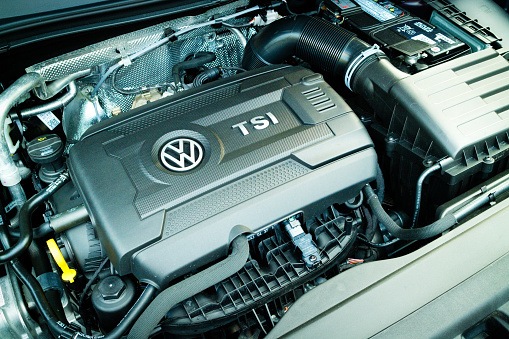 Do you drive a Volkswagen or Audi with the 2.0L TSI or TFSI engine? If so, there are a few things you'll want to pay close attention to as your mileage climbs towards six figures.
As your 2.0L powered Volkswagen or Audi approaches 90,000 miles, your ArborMotion Volkswagen and Audi specialist will monitor your timing chain for "stretch." Stretching happens gradually, but your timing chain can become "out of specification" and gradually worsen, causing other issues if you wait too long to replace it.
If the timing chain in your 2.0L TSI or TFSI stretches too much, you'll see the check engine light illuminate on your dashboard. You know your car better than anyone else; if something doesn't feel right, there's probably something wrong. You may notice your car running abnormally if your acceleration feels off when you're cruising down the road. The worst situation is a flashing check engine light and loss of power, which is referred to as "Limp Mode." Replacing your worn chain with a new one will solve the problem; this is the standard repair recommended by Volkswagen and Audi.
When you allow your timing chain to stretch too much, it becomes a risk to you and your engine. When the chain is allowed to stretch beyond the "permissible limit" set by Audi and Volkswagen, every time you start and drive your vehicle you're rolling the dice. At some point, the stretched chain will fail and cause catastrophic and potentially irreparable damage to your engine.
Protect Your Vehicle with the Audi and Volkswagen Specialists at ArborMotion!
The best way to get the most mileage possible out of your engine and timing chain is by having regular oil changes performed using high quality oil and filters. Have your vehicle serviced by the Audi and Volkswagen Specialist at ArborMotion, and give yourself peace of mind in the knowledge that we only use Volkswagen and Audi recommended oil and filters. As part of your regular service with us, we also do a full multi-point inspection where we can check and keep tabs on your timing chain. As you approach higher mileage, we'll talk with you about the right time to do a full inspection and measurement of timing chain stretch. You want to get the most life out of your vehicle as possible, and our job is to make that happen for you!
Schedule Service on Your Audi or Volkswagen Today!
We'd love to be your go-to repair shop for Audi or Volkswagen service in Ann Arbor. Bring your vehicle to ArborMotion and we'll have it running in tip-top shape in no time! No question is too big or small. Call ArborMotion for Audi or Volkswagen service at 734-761-1088 to schedule your appointment today!