The Burger Quest
---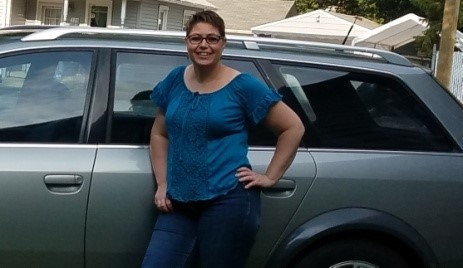 Hi! My name is Christi and I wear many hats at ArborMotion. Sometimes I'm the voice that makes the appointment on the phone with you, on occasion the person who drives your shuttle, or the person who pulls your car in or out. Mostly I'm the person who helps where it's needed. One of the new hats I'm wearing is writing the ArborMotion blog.
The Burger Quest. I would like to share The Burger Quest with you. What is The Burger Quest and how does it fit into ArborMotion's blog?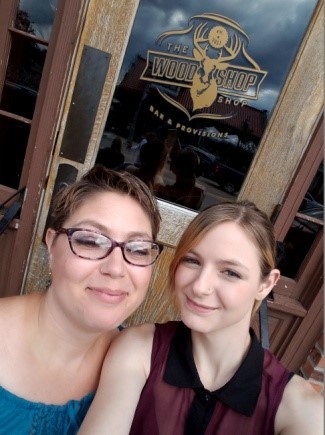 My daughter, Natasha, is obsessed with bacon cheeseburgers. Unhealthily obsessed. As in, if she could she would eat one every day of the week. As a compromise to having burgers for dinner every day of the week and as a way to spend time with my teenage daughter (who thinks it's not cool to spend time with mom anymore) we came up with The Burger Quest. We research the best burger places in the state and once a month we take a drive and try a new burger joint. The quest has taken us to Grand Rapids, Traverse City, Lansing, Canton, and even right here in Ann Arbor. And how do we get there? You guessed it. We drive! We hop in the mom wagon, spend some quality time in the car, maybe spend a day or two in a different town, and eat amazing burgers, fries, and fried pickles if they have them.
Union Woodshop, Clarkston MI. This month's stop was Union Woodshop in downtown Clarkston. It was just over an hour's drive or 58 miles. That translates to a little over 3 hours of no tech for the teenager and quality mom time. Union Woodshop is a smokehouse restaurant where they smoke their own meat. Mmmm, bacon! It was actually featured on an episode of Guy Fieri's Diners, Drive Ins, and Dives with Kid Rock. Usually we look for a more low key kind of place but the reviews were so good we decided to give it a shot. We were not disappointed.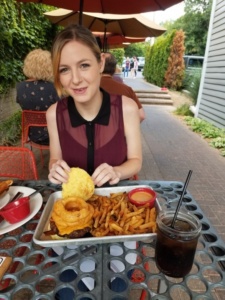 Natasha's burger, directly from their menu:
WOODSHOP BURGER Half-pound Angus beef patty topped with our smoked cheddar, house-made maple bacon, sliced pickles, onion rings & Memphis mayo.
Did I mention Natasha has an unhealthy obsession with bacon cheeseburgers? With a burger that looks that good, I can't really blame her! The burger and fries were served no frills on cookie sheets with brown paper on them. The amount of fries was enough to feed a family of 4! Natasha really enjoyed her burger, but had a hard time eating it. The 2 onion rings made it too large to fit in her mouth so she took one off. It was so juicy, the bottom bun got soggy! She loved the thick cut, smoked in-house bacon. What made it all worth it was the Memphis Mayo…..so delish! I have no idea what was in there, but it was amazing!! She said the leftovers were even better than the first day.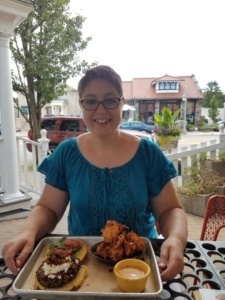 Again, straight from the Union Woodhouse menu:
THE PRETENDER House-made vegan patty, coal-fired tomatoes, arugula, broccoli sprouts, goat cheese, shiitake bacon,roasted garlic balsamic mayo.
Yes, I ordered a fake burger. I'm vegetarian, did I forget to mention that? That means we get to try veggie burgers as well as the real meat stuff. Surprisingly, when I ordered this aptly named burger the waitress oohed and aahed and gushed about how good it was. She was not exaggerating! That was by far the best veggie burger I've ever eaten. The patty is handmade in-house as well as the shiitake "bacon". Being vegetarian I miss bacon. Until this burger, I had not had a good veggie bacon. This was amazing! Crispy, smoky flavored fake bacon goodness. I added the Memphis Mayo to my burger because it was so good. And that pile of deep fried, sort of ball shaped things next to my burger? Those are hand shredded tater tots. Again, add Memphis Mayo and perfection.
Overall, the best fried pickles we've had to date were from Sidetrack in Ypsilanti. The fried pickles here come a very close second. The Memphis Mayo may give these a slight edge, but that may be unfair to rate the pickles by the dipping sauce. According to Natasha the bacon cheeseburger comes in third. In her #1 burger spot is a place called (I promise this really is the name of the place) Freakin Unbelievable Burgers in Farmington Hills that is now closed. The burger she had came with a green olive tapenade that she loved! The nearest location seems to be Flint. Her #2 pick is Basement Burger Bar in Canton. From the first bite to the last there was juice running down her arm from the burger. She said that was the best patty she's had. I'm pretty much in agreement with her on the pickles, however, Freakin Unbelievable Burgers deserves a mention for their fried pickles. They are chips instead of spears and that gives them an extra edge for me. As far as the burger goes, this was by far the very best veggie burger I've ever had. Oh shiitake bacon, how do I love thee?!
For my part, I was taken with the atmosphere. This was my first trip to Clarkston. Union Woodshop is in the heart of the downtown area. It was very quaint, with specialty shops and interesting boutiques. As you can see, we sat on the alley like patio and enjoyed the perfect Saturday afternoon weather. The drive was very pretty also. We rolled down the windows and opened the sunroof as we wound through the Waterford/Clarkston lake roads such as Cooley Lake Rd and ogled at the homes and the view. We saw some interesting sights and took a few pics along the way. A beautiful drive and good food with family. A great way to spend a summer Saturday in Michigan.
Michigan is such a beautiful state to see and explore. My daughter and I use The Burger Quest as our excuse to get out and see some of it. Do you have anything you use as an excuse to take a "Sunday (Saturday) drive"? Please share in the comments some of your favorite places to drive to or your favorite burger joint in the state! We're always looking for new places to try.