Tailgate Event with Cancer Support Community of Greater Ann Arbor
---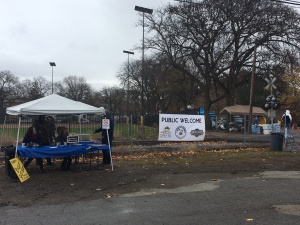 ArborMotion enjoys finding unique ways to help support our local nonprofit organizations, and we had a great time helping out The Cancer Support Community of Greater Ann Arbor on November 19th!
Cancer Support Community (CSC) had a Charity Beer Garden to help raise funds at 327 East Hoover Street for every University of Michigan home football game this season. This venue is only a couple of blocks away from the Big House, and it provided a fabulous tailgating experience – complete with local craft drafts, a live broadcast of the game, and famous BBQ from the "Slows To Go" food truck.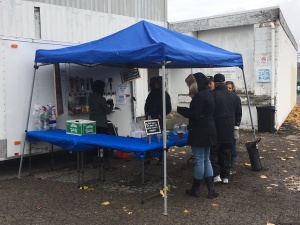 Due to the extremely cold weather that afternoon, ArborMotion decided to provide complimentary hot chocolate for everyone stopping by the Beer Garden. We also gave away a free oil change service to a lucky winner, and gave out some gift cards (as people were too cold to play our games in order to win them). Despite the bone-chilling temperatures, everyone had a great time and we were very happy to see that CSC's Beer Garden was successful. 100% of the beer sales and tips collected from this event went towards supporting CSC's free services for people affected by cancer within our community.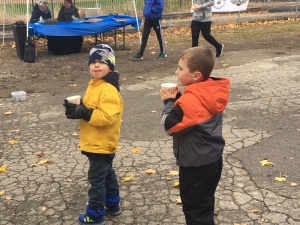 The CSC (formerly The Wellness Community of Southeast Michigan) provides support, education, and hope to all people touched by cancer at no cost to them. The CSC is considered to be a meeting place and "home away from home" for those who are dealing with cancer issues. Absolutely all programs and activities offered at the CSC are free: support groups, classes, workshops, social gatherings, educational resources, etc.
If you would like to learn more about The Cancer Support Community of Greater Ann Arbor, please click here. And don't forget that you can help support the CSC with ArborMotion's "Steer the Cheer" program as well!