Ralph Harris - ArborMotion's "Customer of the Month" (December 2017)
---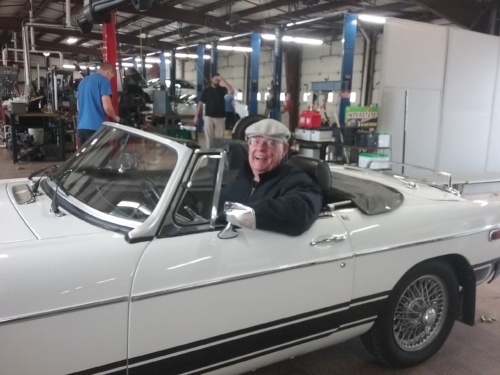 HOW LONG HAVE YOU BEEN BRINGING YOUR VEHICLE(S) TO ARBORMOTION?
I have been bringing my car to ArborMotion for over 4 years.
WHAT VEHICLE(S) DO YOU HAVE SERVICED AT OUR SHOP?
1977 MG-B convertible
HOW DID YOU FIRST HEAR ABOUT ARBORMOTION?
I met a gentleman at Mark's Coney Island and we began chatting about his car. I asked him where he gets it serviced and he said ArborMotion and told me it was just down the street. I stopped in and have been taking my car there ever since.
WHY HAVE YOU KEPT BRINGING YOUR VEHICLE(S) TO ARBORMOTION OVER THE YEARS?
They do great work on my car. They have very knowledgeable technicians and staff. A "shout out" to Tom, who works on my car!
IN YOUR OPINION, WHO IS THE FUNNIEST MEMBER OF THE ARBORMOTION TEAM?
I'm not sure who is the funniest.
DO YOU LIVE IN THE ANN ARBOR AREA?
Yes, in a subdivision near the shop.
DO YOU UTILIZE OUR SHUTTLE SERVICE FOR YOUR APPOINTMENTS?
Yes.
HAVE YOU MET ANY OF OUR TECHNICIANS?
Yes, Tom, the classic car technician who works on my car.
WHAT DO YOU THINK SETS ARBORMOTION APART FROM OTHER INDEPENDENT SHOPS AND/OR DEALERSHIPS?
I receive great service and don't ever have to worry about my car. The staff are great and the location is wonderful.
HAVE YOU RECOMMENDED ARBORMOTION TO ANY OF YOUR FAMILY AND/OR FRIENDS?
I recommend ArborMotion to everybody I meet!