Meet Mike Pisarski - ArborMotion's Team Member Spotlight
---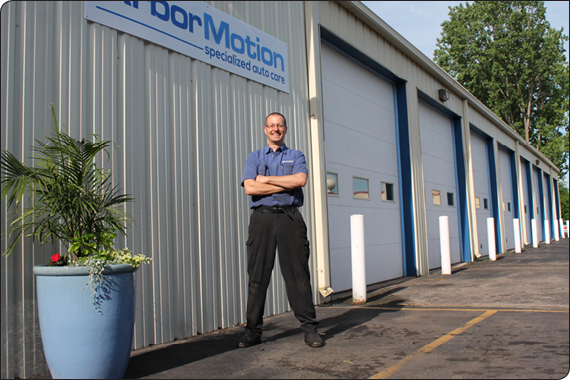 Mike Pisarski is ArborMotion's Audi and Volkswagen Master Technician.
How did you choose your profession?
I didn't choose it; I was actually born into it. The joke is that the first place that I went to after my parents left the hospital with me was straight to the car dealership, (where my dad was the manager). I have always enjoyed tinkering with stuff, and taking things apart since I was a young child; hence, when I bought my first car it was just natural for me to start working on it, too.
What was your first automotive job?
I was pumping gas at a local Shell station that also had a 3-bay repair shop. When the technicians needed a hand inside of the shop, I would go and help them do whatever they needed – that was when I was 17 years old, and I've never looked back!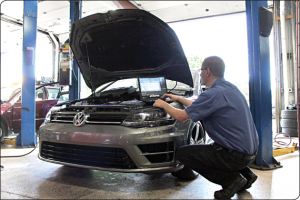 How long have you been doing what you do?
I have been working on cars for myself, my family and friends since 1984. I took my first official automotive job at the Audi Porsche dealership in Grand Rapids in 1990. In 1995, I moved to Ann Arbor in order to work for Howard Cooper Audi/Volkswagen and stayed there for 17 years. I was also the Shop Foreman at LaFontaine Volkswagen in Dearborn.
What certifications do you hold?
I am a State of Michigan and ASE Master Technician, as well as an ASE L1 (Advanced Level Specialist) through the factory Audi/Master Guild, the highest factory certification level that can be earned.
What unique challenges and rewards come from working on these vehicles?
Modern vehicles have marvelous engineering, and they are packed full of high-tech goodies. I really enjoy staying on the forefront of all of the technology that Audi and Volkswagen offer: night vision cameras, adaptive cruise control, and other advanced driver enhancements that make these cars extremely safe and fun to drive.
What is the weirdest thing that you have found in a car during a job that should not have been there?
I have seen many, many strange items including a sleeping dog that I was not expecting, and large amounts of cash hidden near the spare tire…you name it!
What are you known from professionally? What do you have a knack for?
I take pleasure in the difficult and/or "impossible to fix" problems that other shops and dealerships have given up on. You see, I don't like to lose, so I don't give up. Fixing these extremely difficult problems are fun and quite rewarding to me.
What are you most passionate about professionally? What most excites you about your work and the contributions that you make?
Our customers must be completely satisfied with my service, and I ensure that they are 100% in the know about their vehicle and what it takes to maintain and/or repair it. I add my personal touch to everything that I do, and make sure that I get to know our customers personally.
What are you passionate about personally? What do you really enjoy? What can't you stop talking about?
I am passionate about all things that are adventurous, and that get me out of the house. I enjoy taking off on my Harley and traveling all around the country – I am up to 20 different states now. Kayaking and mountain biking are a close second and third though.
Where can we find you when you're not working? What's your favorite way to spend a weekend or a Sunday afternoon?
If I'm not living it up outdoors, then I enjoy cooking, craft beer and good wine.