Linda Sinkule – ArborMotion's Customer of the Month (January 2018)
---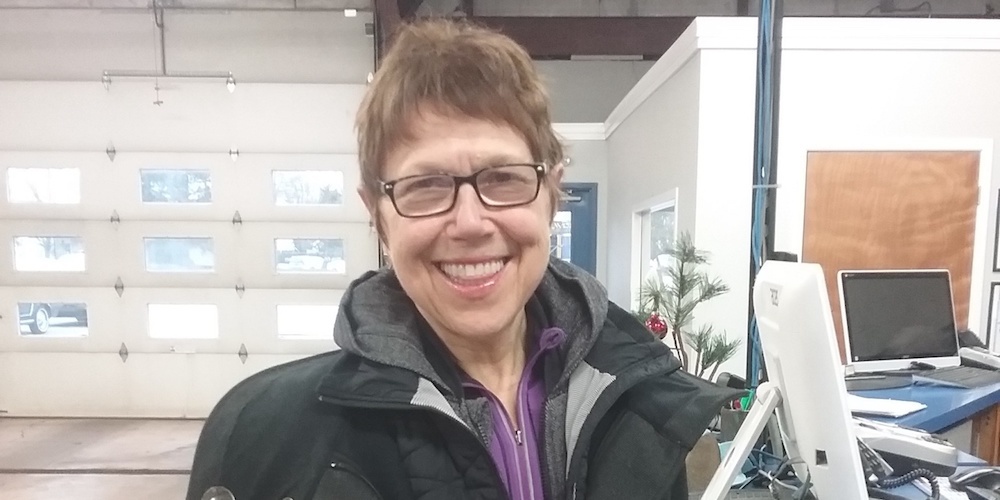 HOW LONG HAVE YOU BEEN BRINGING YOUR VEHICLE(S) TO ARBORMOTION?
Soon to be eight years ago, I became hooked on ArborMotion after my 1st detailing there in the spring of 2010!
WHAT VEHICLE(S) DO YOU HAVE SERVICED AT OUR SHOP?
A 2009 Dark Grey, Mercury Mariner, that I love!
It was sold to me by Sebastian Gaeta at Sesi!
HOW DID YOU FIRST HEAR ABOUT ARBORMOTION?
I became hooked given the best detailing I have ever received in town. And when I needed repairs, I always sought ArborMotion's fair quotes and quality mechanics. Getting the chance to see exquisite cars coming and going has been another draw!
WHY HAVE YOU KEPT BRINGING YOUR VEHICLE(S) TO ARBORMOTION OVER THE YEARS?
Elsewhere, I have received non-solicited diagnoses suggestions for repairs, that felt like a scam! I have always felt safe, bouncing the suggestions off of the experts at ArborMotion. I love fact that I can count on a two year/unlimited mileage warranty on parts and labor! Also, when I was given a tour of the new facility, I was very impressed to see the changes in construction that included it becoming a GREEN BUSINESS. My work helps people look and feel better, so I am very concerned that service centers are healthy for all employees and their customers. Thank you for your consciousness!
IN YOUR OPINION, WHO IS THE FUNNIEST MEMBER OF THE ARBORMOTION TEAM?
Oh! This is the easiest question. Christi is the funniest or craziest member of Arbormotion's Team! Now remember: "It takes one to know one!" I definitely am both funny and crazy, when I'm not working. As a Natural Health Practitioner performing Integrative Bodywork, I'm very professional in my office yet I am quite expressive around engaging people like your team members!
DO YOU LIVE IN THE ANN ARBOR AREA?
Yes, I was born in A2. Although, I have studied in different states and love to travel, I always come back because A2 is a special city to work and share an active lifestyle.
DO YOU UTILIZE OUR SHUTTLE SERVICE FOR YOUR APPOINTMENTS?
Same day servicing has caused me to need shuttle service to or from the shop. Each time, I have thought that the drivers know new ways around A2, and that they were hand-picked for their conversational skills and varied interests. Each pick-up and drop-off has been fun and informative!
HAVE YOU MET ANY OF OUR TECHNICIANS?
Yes! Tom O'Connor.
WHAT DO YOU THINK SETS ARBORMOTION APART FROM OTHER INDEPENDENT SHOPS AND/OR DEALERSHIPS?
The fact that you're such a bright, happy team makes a huge difference. It's a pleasure spending my money with you! Seriously! I have never seen a grumpy face, in the past 7 years, when I come zipping in and out! I'm convinced that each of you treats your ArborMotion's customers…well!
HAVE YOU RECOMMENDED ARBORMOTION TO ANY OF YOUR FAMILY AND/OR FRIENDS?
Absolutely! When my clients talk about their sports cars, I ask if they know Sebastian Gaeta and say they would love doing business with him! If someone talks about storing their sports car, I have also suggested ArborMotion. If a client shares their frustrations about other facilities, mechanics, or having to wait to get work on their car I sing my praises about ArborMotion because I have found you to be The Best.