John McMullen - ArborMotion's "Customer of the Month" March 2017
---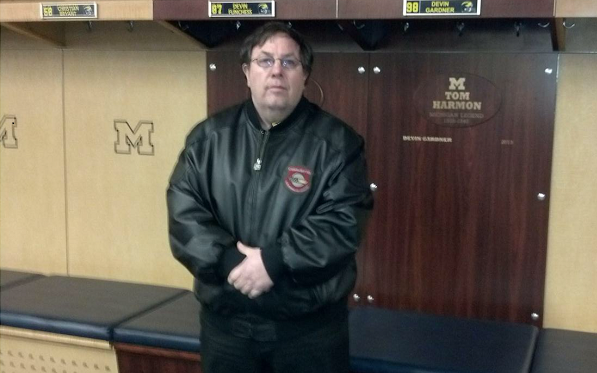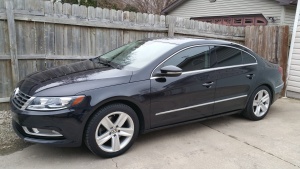 John's 2013 Volkswagen CC
HOW LONG HAVE YOU BEEN BRINGING YOUR VEHICLE(S) TO ARBORMOTION?
5 Years
WHAT VEHICLE(S) DO YOU HAVE SERVICED AT OUR SHOP?
A 2013 Volkswagen CC, a 2010 Toyota Camry, and a 2008 Corvette.
HOW DID YOU FIRST HEAR ABOUT ARBORMOTION?
My wife's niece's husband works there, his name is Jason Gary.
WHY HAVE YOU KEPT BRINGING YOUR VEHICLE(S) TO ARBORMOTION OVER THE YEARS?
They treat you like family, and you are not just a number to them. The technicians know what they are doing, and they get the job done. Also, they will take the time to talk to you, and let you know what your car needs at the time of your appointment.
IN YOUR OPINION, WHO IS THE FUNNIEST MEMBER OF THE ARBORMOTION TEAM?
One of them is John Wagner, but they're all funny. You just need to get to know them better to find out who is the funniest.
DO YOU LIVE IN THE ANN ARBOR AREA?
I live in Ypsilanti Township
DO YOU UTILIZE OUR SHUTTLE SERVICE FOR YOUR APPOINTMENTS?
Yes, they have 3 great drivers to take you to work or home, (anywhere in Ann Arbor), and then bring you back to the shop if you need them to.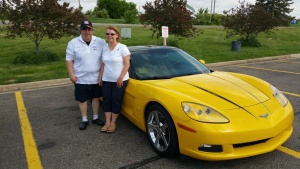 John and his wife, Laura, with their 2008 Corvette
HAVE YOU MET ANY OF OUR TECHNICIANS?
Yes, they are a great bunch of guys.
WHAT DO YOU THINK SETS ARBORMOTION APART FROM OTHER INDEPENDENT SHOPS AND/OR DEALERSHIPS?
I think their pricing is just as good, if not better than at dealerships. Their service writers take the time to listen to you to find out what is wrong with your vehicle. And if anything changes during your appointment, the service writers will call you with the changes.
HAVE YOU RECOMMENDED ARBORMOTION TO ANY OF YOUR FAMILY AND/OR FRIEND
Yes, I have!
Note: John was actually a shuttle driver for ArborMotion, so you may recognize him!