Why it Matters Who Services Your Vehicle
---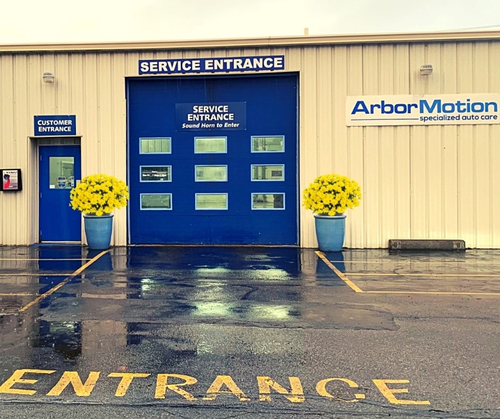 You wouldn't see just any doctor to fix what ails you. The same goes for auto repair. When you take your car in for service, it's important to know that the repair shop you choose will treat your car with the same dedication and passion that you have for your own vehicle.
At ArborMotion, we're passionate about cars and customer service!
Bosch Certified Facility Near You
We take a lot of pride in being a Bosch Certified facility. Bosch service centers are held to rigid standards when it comes to quality of parts, and quality of knowledge and technology. ArborMotion consistently sources Original Equipment Manufacturer (OEM) parts for our maintenance and repair services. As a Bosch Certified facility, we're also equipped with the latest technology and tools for the most efficient diagnosis and repair times available.
Your Technicians Are Certified in on Your Vehicle
When you bring your vehicle to us, we provide manufacturer level service where your technician is be trained and knowledgeable about your brand and make of vehicle. From oil changes, air conditioning and brakes to timing belts and more, you'll get the best service possible at competitive rates.
ArborMotion Helps You Manage Your Vehicle's Maintenance Services
At ArborMotion we automatically keep track of your vehicle's maintenance schedule and keep you fully informed along the way. At each service you receive a full report of which items are up to date (so you don't spend money needlessly) and which items are coming due. From time to time you will receive reminders when upcoming services are due, via email or text. These reminders make sure you get every mile possible out of every maintenance service, saving you money. This is one more way ArborMotion is working every day to make your auto care easy. When you get a text or an email from us regarding your maintenance you can easily respond and schedule your recommended services.
Ann Arbor's Choice for Import Auto Repair & Service for Over 35 Years
ArborMotion is Ann Arbor's largest independent automotive repair shop. Locally owned and operated for over 35 years, we specialize in European and Asian cars and provide expert service on all major brands. Our certified auto technicians, friendly service advisers and professional customer service specialists are committed to providing you unsurpassed value and service.
· Daily door-to-door shuttle service
· Complimentary loaner vehicles available
· Your vehicle hand-washed with every service
Schedule Service on Your European or Asian Vehicle Today!
We'd love to be your go-to repair shop. Bring your vehicle to ArborMotion and we'll have it running in tip-top shape in no time! No question is too big or small. Call ArborMotion for domestic and European auto repair at 734-761-1088 to schedule your appointment today!