Fall Color Drives in Michigan
---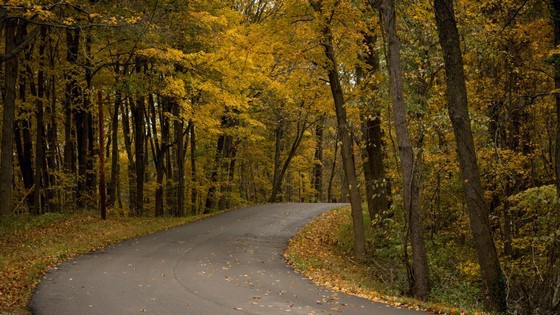 Michigan fall means snuggling into sweaters and sweatshirts, cider and donuts, and the colors. Oh, the colors. The vibrant reds, yellows, and oranges of the leaves and fall flowers are breathtaking. It is the best time of the year for a road trip. Here are 3 of our favorite fall color drives and the dates they are projected to be at their peak this year.
1. Brockway Mountain Drive. The 10 mile section of M-26 between Copper Harbor and Eagle Harbor is the highest paved road above sea level between the Rockies and the Alleghenies. There are 2 nature preserves and many scenic pull-offs where you can see not only the foliage but Lake Superior in every direction. Continue on M-26 to US-41 and back into Copper Harbor. The drive is about 45 miles and will take a little over an hour depending on how many stops you make and how long you are awed by the scenery. The best color display is projected to be October 1-7 in the UP.
2. M-22 Traverse City to Empire. This stretch of M-22 was voted the best scenic autumn drive in the US! It even beat out Maine's historic Route 1 and Ohio's Hocking Hill Scenic Byway. Start in downtown Traverse City and go north along the east side of the Leelanau Peninsula then down the west side of the peninsula. You can take M-22 all the way down to Manistee, making a stop at Sleeping Bear Dunes along the way. This route is 116 miles and will take about 2 hours depending on how long you stop in the dunes. The peak colors in northern Michigan are estimated to be from October 7-14 this year.
3. Huron River Drive. Right here at home we have our own abundance of fall foliage. The stretch of Huron River Drive from Ann Arbor to Dexter is a lovely meandering road surrounded by fall colors on either side. Start your drive in Ann Arbor just before Main St. merges into M-14 and end in Dexter. Top off the short drive with cider and donuts at the Dexter Cider Mill or a trip to Hudson Mills Metropark. This drive is about 20 minutes and the best dates estimated to make the trip is October 14 – 21.
Colorful drives, fresh pressed cider, hot donuts, and U-pick apples are just a small sample of the season's pleasures. There are so many more out-of-the-way and off the beaten path places and roads that are equally as beautiful and unique. What are some of your favorite fall activities and drives?