ArborMotion's Earth Day 2017 Project Announcement!
---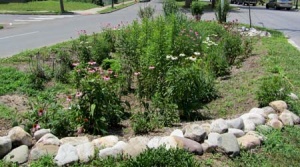 ArborMotion is elated to announce that we have begun the process of partnering with the Washtenaw County Rain Garden Program in hopes of creating our very own rain garden at our shop!
ArborMotion takes pride in its many green initiatives, and by creating a rain garden, we can help to significantly reduce the amount of pollution from getting into our community's creeks and streams. Rain gardens are designed to absorb storm water run-off from roofs, parking lots, and other impervious surfaces, and our site visit from the Community Partners for Clean Streams is later this month!
Did you know that you could create a rain garden in your very own yard as well? For more information, please click here to visit the Washtenaw County's Rain Garden Program website!