Everything You Need to Know About Your Car's Filters
---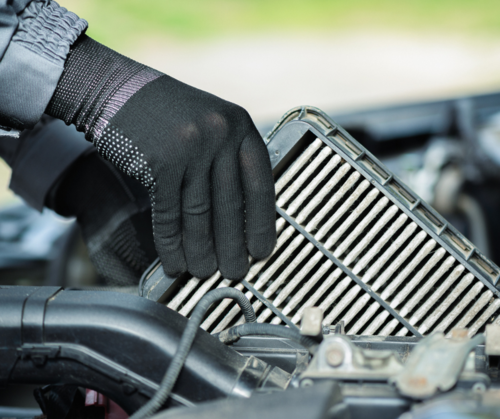 Did you know there's more than just one filter in your car that you must change regularly?
Your car has multiple filters including filters for your cabin, engine, fuel, and oil. When your filters are clogged, it can affect your car's performance, causing issues in the long run.
1. Cabin air filter: The benefits of cleaning your cabin air filter include breathing fresher air, maximizing airflow, and extending the life of your car's heating, ventilation, and air conditioning system.
2. Engine air filter: A clogged or dirty engine filter will make your engine work harder, leading to loss of power, fuel mileage and premature and engine wear.
3. Fuel filter: This filter removes impurities like dust, rust, and grime contained in the fuel. Removing these contaminants protects your fuel injectors and helps maintain the performance and longevity of your engine.
4. Oil filter: This filter maintains continuous flow of oil and removes dirt particles that appear in oil due to wear. A new filter purifies the motor oil so it can do its job efficiently.
Having a service schedule for your filters will help you keep your car running at its peak. Consult your owner's manual or speak to an experienced technician about maintenance intervals for your filters.
"ArborMotion is my go-to garage now. Each of their staff consistently provide exceptional service. I trust their guidance and I appreciate how easy they make scheduling and shuttling. Any time I have waited, they've done better than other garages sticking to an estimated wait time."
Anne, Google Review
Is Your Vehicle Road Trip Ready? Schedule a Pre-Trip Inspection!
When was the last time your other cars filters were changed? Call ArborMotion for domestic and European auto repair at 734-761-1088 to schedule your appointment today! Let us know if you're experiencing any problems, and we'll get you back on the road!