Barbara Olencki - ArborMotion's "Customer of the Month" (March 2018)
---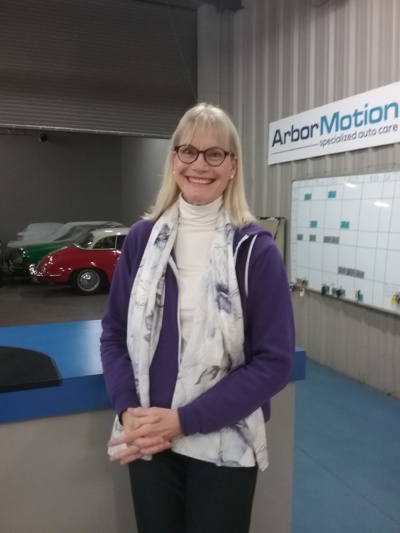 HOW LONG HAVE YOU BEEN BRINGING YOUR VEHICLE(S) TO ARBORMOTION?
Over 5 years
WHAT VEHICLE(S) DO YOU HAVE SERVICED AT OUR SHOP?
I currently bring in my 2005 Volkswagen Passat. I also used to bring in my mother's Volvo.
HOW DID YOU FIRST HEAR ABOUT ARBORMOTION?
Another customer's parents live in my neighborhood and they recommended ArborMotion to me.
WHY HAVE YOU KEPT BRINGING YOUR VEHICLE(S) TO ARBORMOTION OVER THE YEARS?
The customer service!
IN YOUR OPINION, WHO IS THE FUNNIEST MEMBER OF THE ARBORMOTION TEAM?
Every team member who has helped me has a sense of humor
DO YOU LIVE IN THE ANN ARBOR AREA?
Yes
DO YOU UTILIZE OUR SHUTTLE SERVICE FOR YOUR APPOINTMENTS?
Yes
HAVE YOU MET ANY OF OUR TECHNICIANS?
Yes, Tim and Mike
WHAT DO YOU THINK SETS ARBORMOTION APART FROM OTHER INDEPENDENT SHOPS AND/OR DEALERSHIPS?
The clean work area and the kindness, fairness, and understanding of the employees.
HAVE YOU RECOMMENDED ARBORMOTION TO ANY OF YOUR FAMILY AND/OR FRIENDS?
Yes!