Why You Should Be Wary of Autumn Leaves
---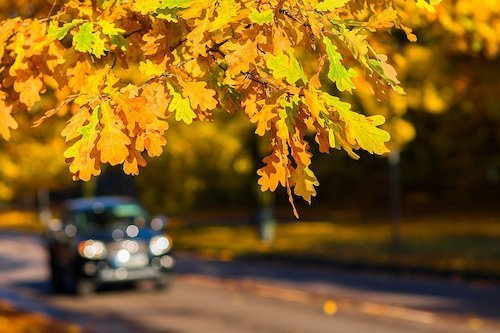 Fall brings beautiful, colorful leaves tumbling down to everything below. As pretty as they are, it's important to be aware that leaves can create potentially dangerous roads and hazardous conditions.
Make Driving Slippery
One of the biggest problems with leaves is that they can make driving slippery, especially when roads are wet. It's very important to keep a safe braking distance between you and the car in front of you to avoid an accident.
They Can Plug your Car's Drainage System
If leaves get into the crevices around the trunk of your car, hood or where the windshield wipers sit, micro-drains in those areas can back up, which could lead to water inside your vehicle.
They Can Get into The Air Vents
In the fall you may have heard a "flap, flap, flap" sound coming from your engine. It may be the result of leaves that got sucked into the blower motors and your HVAC system.
Leaves Also Create a Very Inviting Home for Rodents
On cool fall days and even colder winter days, rodents are known to build nests out of the leaves and create a home for themselves … then they may begin to nibble away at your vehicle's insulation and wiring!
ArborMotion Are Experts in Domestic, Asian and European Auto Repair in Ann Arbor.
For more than 30 years, ArborMotion has been Ann Arbor's Import and Domestic Auto Repair specialist. Our technicians are specially trained on the individual brands they service so their knowledge and experience works for you. Paired with our OEM and factory parts, ArborMotion's got the expertise.
We'd love to be your go-to repair shop to help ensure you and your family are safe on the road. Bring your Ford, GM or Chrysler to ArborMotion and we'll have it running in tip-top shape in no time. No question is too big or small. Call ArborMotion at 734-761-1088 to schedule your appointment today! Our professional team would love to take care of you and your car.
Happy Motoring from all of us at ArborMotion!