Meet Nick Pott - ArborMotion Monthly Team Member Spotlight
---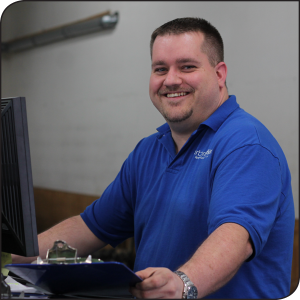 Nick Pott works in Dispatch, QC, and Rennstatt at ArborMotion.
How did you choose your profession?
Growing up the son of the top Porsche technician in the area, my best childhood days were spent either in the shop or at the racetrack. As my first word also was "car," it was no surprise that the thought of an automotive career came easy and quite naturally.
What was your first automotive job?
My first automotive job was working for my father Tim, at his shop (Eurotec Motors) as a porter and shop maintenance worker.
How long have you been doing what you do?
I have been in the automotive field professionally now for 15 years, in many various positions and levels. I paid my dues sweeping floors and picking up parts, working my way up to changing oil and swapping engines, and eventually writing up customers and managing a full shop. It has been a crazy trip and I look forward to many more years.
What certifications do you hold?
I hold ASE certifications in Brake and Steering/Suspension Repair
What unique challenges and rewards come from working on high-end vehicles?
When working with high end vehicles as we do in our Rennstatt division, there are more rewards than challenges. And any challenge is merely a learning opportunity, (although in the heat of the moment, challenges can escalate quicker than expected, and the learning experience isn't realized until later). The reward is knowing that we give our customers the best product designed for their high end vehicles.
What is the weirdest thing you have found in a car during a job that should not have been there?
The weirdest thing that I have found in a car would have to be a cat that was up in between the car and the engine. He definitely should NOT have been there!
What are you known for professionally? What do you have a knack for?
I believe that I have a knack for communicating with people, and the whole customer relation aspect. I speak to customers at some of the worst times with their cars, and understanding that has really helped me to continue to learn and grow with the job.
What are you most passionate about professionally? What most excites you about your work & the contribution you can make?
A customer leaving with a great experience, a "WOW" experience, is the ultimate goal. Whenever I know a customer is happy with their visit, that is what it is all about!
What are you passionate about personally? What do you really enjoy? What can't you stop talking about?
SCCA Road Racing and Michigan College Football are my two passions outside of work. Instilled in my youth, both have been staples in my life and many of my fondest memories involve either a football game or being at a race track. SCCA Road Racing especially. I could talk for hours about some of the races I have been to and racers I have met.
Where can we find you when you're not working? What's your favorite way to spend a weekend or a Sunday afternoon?
At home! With my wife and kids and step kids! On nice days I would like to be in the garage working on the race car or maybe barbecuing for the family. I have two daughters and my wife, Carrie, has a son and a daughter, and we also have our little dog. Likely I can be found at home with the family if not at work.