Meet Laura Rymarz - ArborMotion's Team Member Spotlight
---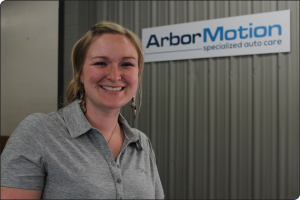 Laura Rymarz is a Service Adviser at ArborMotion.
How did you choose your profession?
I was looking for a career change and a friend told me about a job opening at a small, independent shop. I grew up watching my dad fix our family's vehicles and was interested in learning more about the auto repair industry. I applied for the job and have been working in the automotive repair industry since.
What was your first automotive job?
I wore many hats at my first automotive job. From ordering parts to writing orders and service advising, I did everything besides working on the cars myself.
How long have you been doing what you do?
I've been working in this industry for the past few years.
What certifications do you hold?
I have a certificate in Service Advising from Bosch, and am currently working on an ASE Service Advising Certificate.
What unique challenges and rewards come from working on high-end vehicles?
With premium vehicles, you really have to have technicians with experience and knowledge of each vehicle. They all have their quirks which can make servicing them difficult. I love seeing the pride of ownership and excitement that our customers have for not just their vehicles, but others as well. I feel very lucky that I get to work around, and appreciate beautiful vehicles every day.
What is the weirdest thing you have found in a car during a job that should not have been there?
A live chipmunk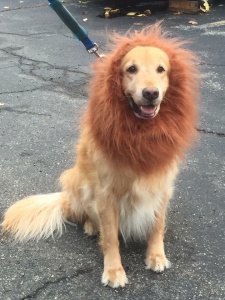 Laura's dog, Gunner, at ArborMotion's "Trunk or Treat" on 10/27/16
What are you known for professionally? What do you have a knack for?
I always put 100% into my work and look for areas that I can improve upon. I really enjoy solving problems and have a knack for connecting with customers. I try to make the automotive service/repair process as painless as possible.
What are you most passionate about professionally? What most excites you about your work & the
contribution you can make?
I am passionate about constantly finding ways to be better and more efficient at my job, as well as making our customers' experience the best that it can possibly be.
What are you passionate about personally? What do you really enjoy? What can't you stop talking about?
I love listening to live music, Red Wings hockey, my dog Gunner and my family/friends.
Where can we find you when you're not working? What's your favorite way to spend a weekend or a Sunday afternoon?
You would most likely find me out on the boat with family and friends, or camping somewhere off the shores of Lake Michigan.